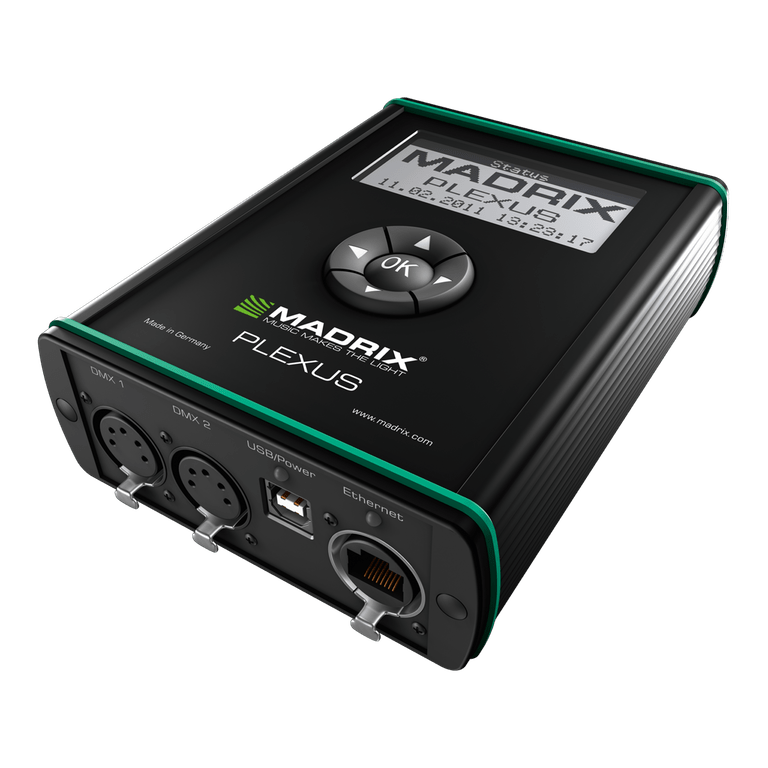 MADRIX PLEXUS is the next-generation live or stand-alone interface.
The MADRIX 3 Software license for 1024 DMX channels is already included.
Developed and made in Germany.
MADRIX PLEXUS First Look
Product Overview
The MADRIX PLEXUS controls up to 2 universes via DMX512 or Art-Net as a versatile stand-alone interface or live controller. It is the first and only interface to offer stand-alone playback of MADRIX light shows and effects.
Live Mode
Fully control 1024 DMX channels via MADRIX Software and use 2x DMX-OUT, 2x DMX-IN, 1x DMX-OUT and 1x DMX-IN, or Art-Net. The USB or the Ethernet connection can be used for live mode.
Stand-Alone Mode
The built-in slot for SD or SDHC cards allows to run sophisticated light shows without the need for a computer. A MADRIX PC is only required to preprogram the shows.
Master-Slave Synchronization & Scalability
Simply connect multiple devices at the same time. A master interface can be set up to synchronize the LED installation across all DMX universes.
MADRIX Software Integration
The PLEXUS hardware and the MADRIX Software form a unique bundle. This powerful combination works directly out of the box.
Extension Port
The versatile 15-pin serial port offers enhanced connectivity towards external analog or digital devices and therefore maximum flexibility.
Event Scheduler
Easily run automatic scenes off the SD card with the help of the internal clock and time-controlled shows.
Quality Design
The precision aluminum enclosure, NEUTRIK plugs, and other excellent components ensure High Availability and reliability.
Innovative Handling
The large backlit 3″ LCD graphics display and 5 accessible control buttons make it really easy to manage and set up the device.
USB 2.0 Standard
Support of the USB 2.0 standard provides professional features such as Power over USB, Hot Swapping, and Plug and Play.
Kensington Security Slot
Secure each MADRIX PLEXUS using the standard of portable security.
Average Hardware Failure And Return Rate
(Last Update: April 2019)
0.16 %
Connectivity
2x DMX-IN/OUT
1x RJ45 Ethernet port
1x Extension port
1x SD card slot
1x USB port
Package Contents
MADRIX PLEXUS
MADRIX 3 Software
4 GB SD card
USB power supply, USB cable, and world power plug adapters kit

New Major Features Since Product Launch
Sunrise and Sunset Timers:

Added Location (Geo Coordinates) to automatically calculate sunrise and sunset timers as an option for time-controlled shows.

New language options:

Added German and Spanish as additional menu language of the device.

Remote Control:

Various options to directly control the device remotely via DMX-IN or Art-Net.
MADRIX 3.X Minimum System Requirements
2.0 GHz dual-core CPU
OpenGL 2.1 graphics card (NVIDIA recommended)
2 GB RAM
1 GB free harddisk space
1280 x 768 screen resolution
Network card
Sound card
USB 2.0
MADRIX 3.X Supported Operating Systems
Microsoft Windows 7
Microsoft Windows 8
Microsoft Windows 8.1
Microsoft Windows 10
Compatible with 32 bit and 64 bit
---