MADRIX 5 is the ultimate control tool for your LED lighting.
Use pixel mapping at its best in 2D or 3D.
An award-winning software, and so much more.
It is a tool for generative visuals and effects, and leading LED lighting controller since 2005.
It is a quality piece of engineering made in Germany. It makes your stunning LED lighting designs possible.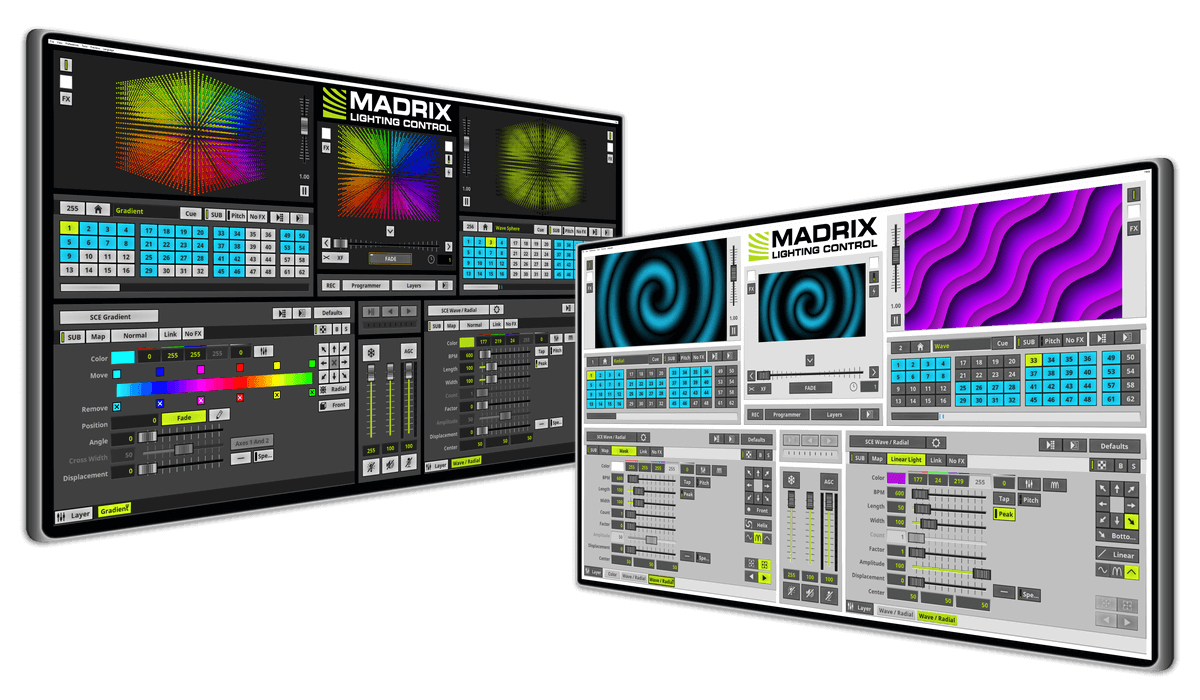 ---
Downloads & Documents
Find all downloads, release notes, and more here:
---
---
Ultimate Control
From the smallest projects to the biggest ones – get the best out of your LEDs. MADRIX 5 can produce a complete LED light show from a normal computer or laptop. Still, it can drive tens of thousands of LEDs without problems. This powerful software will not only allow you to control nearly any 2D LED display in every possible way, but real 3D LED applications as well. This makes it the ideal solution for your LED project.
Ultimate Flexibility
Bring your LED design to life with beautiful colors, stunning visuals, and spectacular effects. MADRIX 5 adapts to your needs. Use it as LED lighting controller, VJ software, 2D pixel mapper, 3D voxel mapper, media server, or media creator. This software is easy to use with a VJ-like operation, 2 decks and a crossfader, plus 3 real-time previews to show your effects in advance.



2D Pixel Mapping
The MADRIX 5 Software makes it possible to control numerous LED fixtures; also of different kinds. Position them according to your needs in nearly any form or shape. Map pixel by pixel and achieve pixel-perfect results, even with the lowest of pixel resolutions. The result are crisp and sharp visuals on your LEDs.

3D Voxel Mapping In X, Y, And Z
MADRIX 5 provides a leading-edge feature set to fully control real 3D LED matrices. MADRIX 5 supports volume rendering (voxel mapping). This approach is fundamentally different to the 3D projections or the physical layout of 2D surface areas that are widely known nowadays. It makes your installation state-of-the-art.

Combine 2D And 3D
Combine any 2D project with 3D elements in order to create even more spectacular attractions for your audience, customers, and clients. MADRIX 5 is a powerful tool that will help you realize the projects you want to build. Mapping LEDs is fast, creative, and fun. MADRIX 5 certainly takes your LED display to the next level.

Industry Standards
For Output
MADRIX 5 excels in flexibility. You can directly connect to a wide range of LEDs and compatible first-party or third-party LED controllers.
DVI-Based Output
ColourSmart Link
Colorlight A8
Colorlight 5A
Colorlight T9
DVI (VGA, HDMI, and more)
Eurolite T9
Even more options are available via converters or bridging tools.
Output is defined through our MADRIX 5 KEY dongle licenses.
Industry Standards For Input,
Interoperability, Remote Control, And Audio
MADRIX 5 easily integrates with other lighting desks, consoles, controllers, and many other hardware or software tools.
Media (Images, Pictures, Logos, Videos, Text, Live-Signal Capturing, Screen Capturing)
MIDI
NewTek NDI (Send & Receive)
Remote HTTP (Web Server)
Spout (Send & Receive)
Streaming ACN (sACN / E1.31)
Time Code
(Art-Net / MIDI / SMPTE / System Time)
WDM
Even more options are available via converters or bridging tools.
Input is not limited by the MADRIX 5 KEY license system.
---
ASIO is a trademark and software of Steinberg Media Technologies GmbH
---
MADRIX 5 Licenses
Different licenses are available for different needs and project sizes.
Our License Calculator can help you choose the right license for your project.

MADRIX 5 License
DMX Channels
DMX Universes (Example)
RGB Voxels (Example)
---
DVI Voxels
Render Resolution (Example)
---
Upgradable
Validity
start
1,024
(2)
(341)
---
16,384
(128 x 128)
---
Lifetime
entry
6,144
(12)
(2,048)
---
262,144
(512 x 512)
---
Lifetime
basic
16,384
(32)
(5,461)
---
1,048,576
(1,024 x 1,024)
---
Lifetime
professional
65,536
(128)
(21,845)
---
2,097,152
(2,048 x 1,024)
---
Lifetime
MADRIX 5 License
DMX Channels
DMX Universes (Example)
RGB Voxels (Example)
---
DVI Voxels
Render Resolution (Example)
---
Upgradable
Validity
ultimate
262,144
(512)
(87,381)
---
2,097,152
(2,048 x 1,024)
---
Lifetime
maximum
1,048,576
(2,048)
(349,525)
---
2,097,152
(2,048 x 1,024)
---
—
Lifetime
preprogrammer
MADRIX 5 preprogrammer is a special license available for project preparation.
It provides no output for MADRIX 5, but removes major limitations of the demo mode.


---
—
Lifetime
MADRIX 5 preprogrammer provides no output for MADRIX® 5, but removes major limitations of the demo mode.
MADRIX 5 start provides the output license for 1,024 (2x 512) DMX channels and 16,384 (128 x 128) DVI voxels for MADRIX® 5.
MADRIX 5 entry provides the output license for 6,144 (12x 512) DMX channels and 262,144 (512 x 512) DVI voxels for MADRIX® 5
MADRIX 5 basic provides the output license for 16,384 (32x 512) DMX channels and 1,048,576 (1,024 x 1,024) DVI voxels for MADRIX® 5.
MADRIX 5 professional provides the output license for 65,536 (128x 512) DMX channels and 2,097,152 (2,048 x 1,024) DVI voxels for MADRIX® 5.
MADRIX 5 ultimate provides the output license for 262,144 (512x 512) DMX channels and 2,097,152 (2,048 x 1,024) DVI voxels for MADRIX® 5
MADRIX 5 maximum provides the output license for 1,048,576 (2,048x 512) DMX channels and 2,097,152 (2,048 x 1,024) DVI voxels for MADRIX® 5.
MADRIX KEY
The MADRIX KEY is a USB dongle that unlocks the features or output for the MADRIX 5 Software or MADRIX RADAR Software by holding the corresponding license. You can freely switch between different PCs as it is not bound to a specific system. It only needs to be activated online once.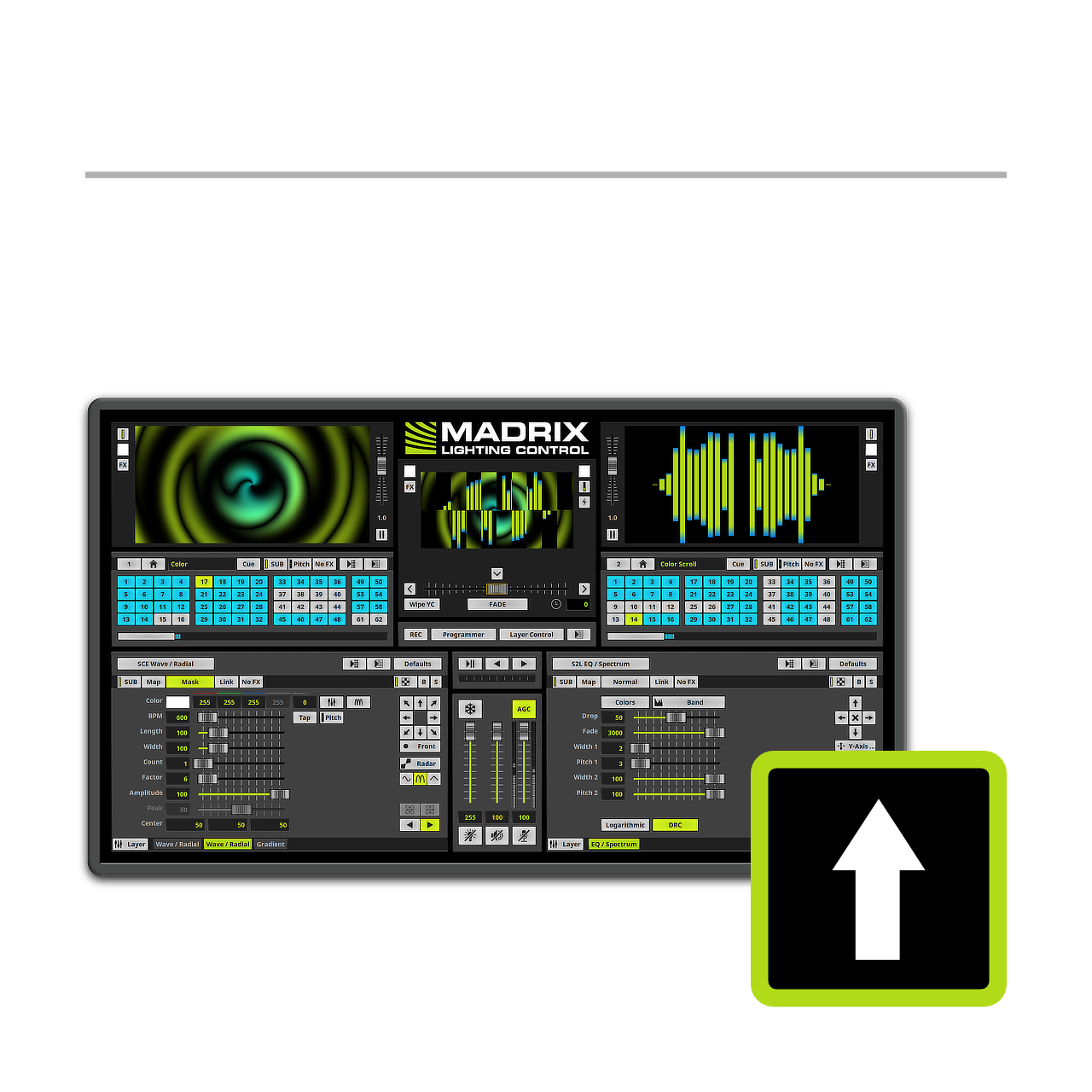 MADRIX 5 License Upgrades
You can easily upgrade the license on your MADRIX KEY to any higher license at any time in order to increase the available output. They can simply be processed online. Please contact your dealer for more information.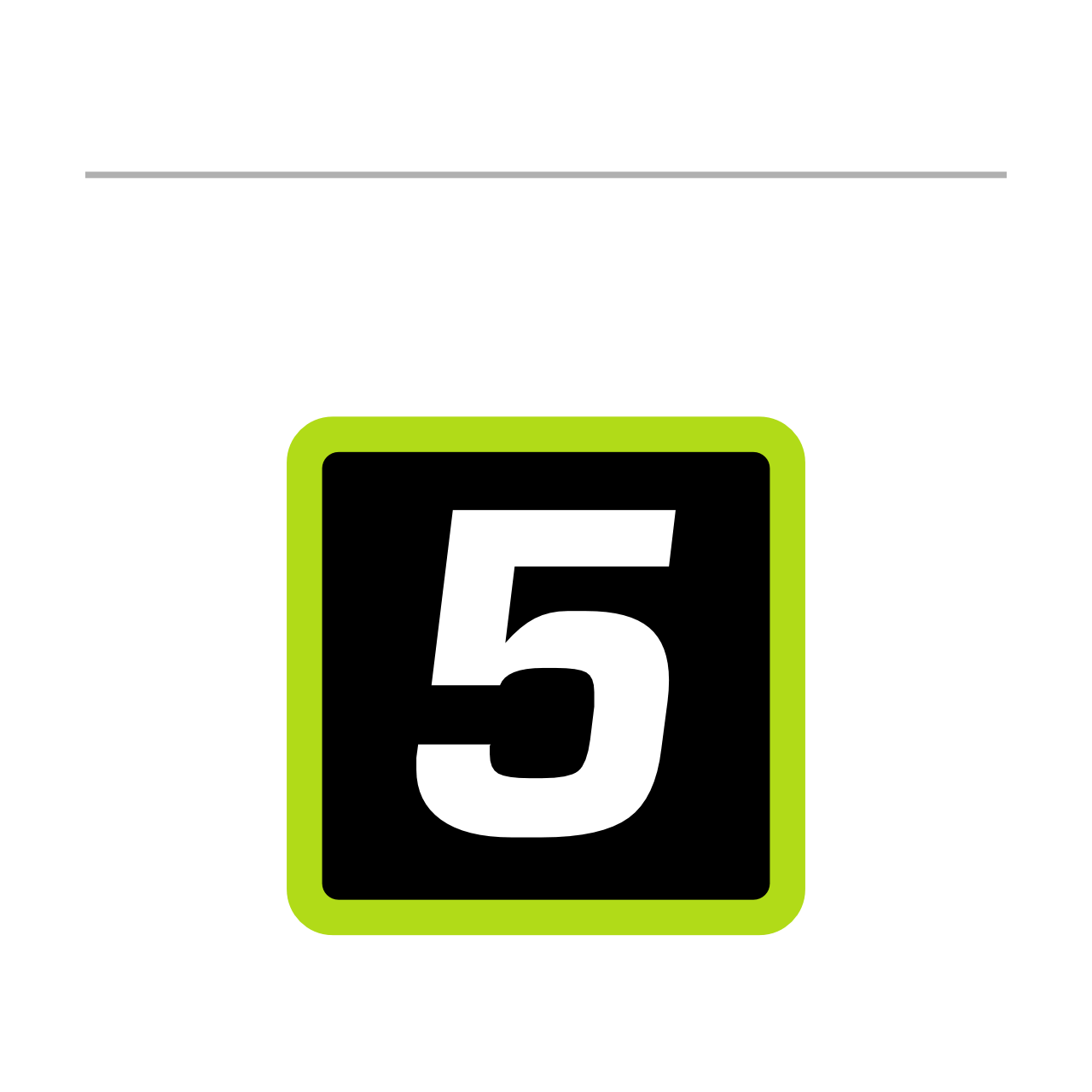 Update To MADRIX 5
Meet the next generation of ultimate LED control. See the main new features here and dive into unprecedented possibilities.
Make sure to update, since MADRIX 3 project support ends May 07, 2020!

You Can Serve Media
Use the media-server features and conveniently load and play back images, pictures, and videos. Or use live video signal capturing, screen capturing, scrolling text (ticker), and more. But what if you are not using a video screen at all? Videos are great media for rectangular screens, but the possibilities are quickly exhausted for creative 2D LED setups or even more so for 3D.
But Often, Video Is Not Enough
MADRIX 5 is an effect generator with outstanding capabilities to display unique real-time effects on your LEDs. This is the main advantage. Endless stunning and fully customizable visuals are created live for you by you with the built-in graphics engine and rendering engine. From simple colors to sophisticated visuals – all is possible.

Audio-Reactive Visuals
MADRIX 5 features a state-of-the-art audio analysis. It can process any live audio signal and create stunning real-time lighting visuals. These live effects will create a light show that runs in sync with your music. And thanks to the integrated effects generator, you can also create many lighting patterns without audio input. On top, you can customize all visuals at an unprecedented level.
Ultimate Creativity
Creating stunning light effects has never been easier. Use video-like visuals without the need for videos. Creating videos specifically for a project can be time-consuming, costly, and unpractical. Let the software produce stunning effects, visuals, and animations for you. You can always quickly change everything, such as speed, color, shape, direction, size, movement, position, brightness, and much more.

Create Stunning Visuals In Seconds
MADRIX 5 allows you to produce extraordinary live visuals. You don't need to invest a lot of time for programming. With MADRIX 5, you quickly create visuals and bring creative and diverse lighting effects to any LED installation. In addition, apply many advanced features you would not want to miss. Use layers of effects and media, quickly modify visuals via FX filters, combine effects via mix modes, control fixture-group intensities, and much more.
Step 1
After the intial configuration, choose a MADRIX Effect from the built-in effects library with over 55 effects.
Step 2
Quickly change the individual parameters as you wish, or leave the default settings.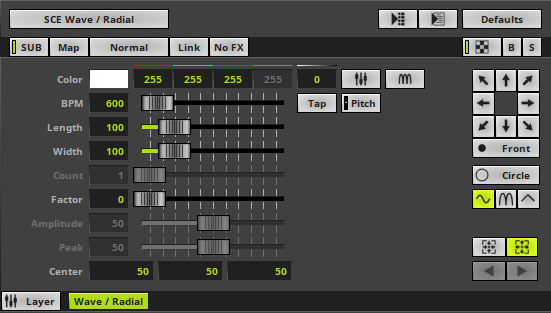 Step 3
Go from default to custom in no time. It only takes a few mouse clicks to create stunning visuals.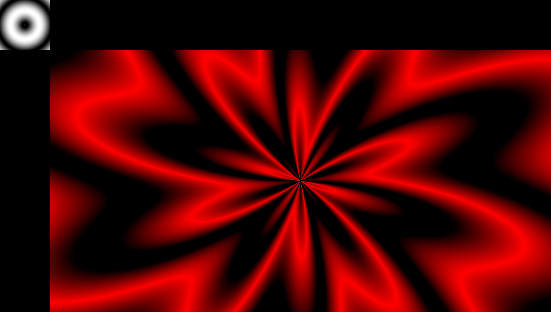 Workflows
MADRIX 5 accommodates numerous ways to operate the software. The above mentioned industry standards for input, interoperability, remote control, and audio make a lot possible for simple setups, complex lighting systems, or any AV integration. Here are just a few examples that go beyond direct control via mouse and keyboard or remote control via a lighting console.


Touch Screens
This view provides you with an intuitive interface designed for touch-screen panels. Large buttons and controls make touch control very easy to use.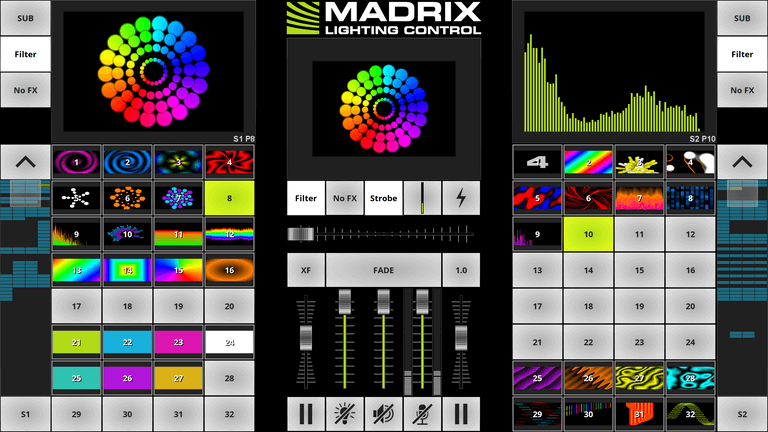 MIDI Controllers
MIDI controllers are a great way for tactile and fast operation. MIDI button feedback even reflects the state of the software controls on the controller.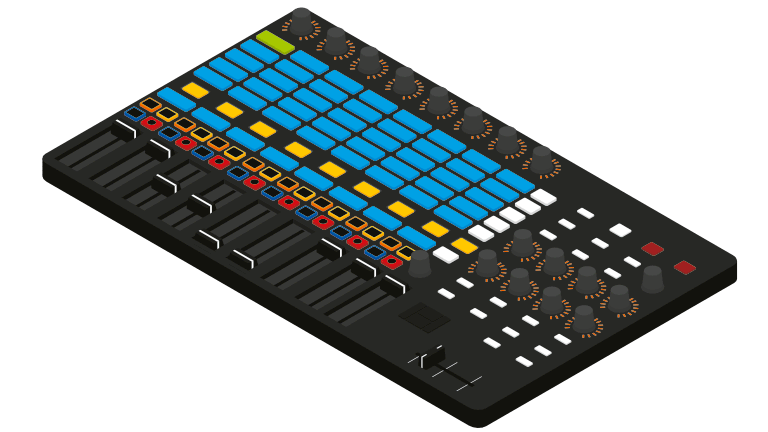 Cue Lists
Cue Lists are automated playlists. The playback of effects and visuals can be precisely scheduled in hours, minutes, seconds, and frames. Time code can be received from Art-Net, MIDI, SMPTE, or taken from the system's time. Synchronize time and equipment across lighting systems and shows.



Timelines
Timelines offer unprecedented possibilities to create light shows that sync to music. Based on time code and sequencing, you can trigger segments at exactly the right time and synchronize your lighting to audio, which is shown in waveforms. In this case, MADRIX 5 itself can become the time-code sender.



MADRIX Effects
Choose from 5 different effect categories and over 55 built-in effects. SCE Effects do not require any sound and make up the most diverse set of patterns and effects. S2L, short for Sound2Light, brings your audio input to life. M2L, short for Music2Light, takes audio-based effects to an even deeper level. MAS allows you to create effects from scratch with the help of the advanced MADRIX scripting language. TRI, short for Trigger, adds a whole new level of interactivity as you can set off visuals with your manual input.
LED Fixtures
The library already includes a large variety of fixture profiles. Use 1-channel, 2-channel, RGB, or RGBW fixtures, or any variant of these. Use the Fixture Editor for your own profiles. With MADRIX 5, it is easy to manage the wide range of fixtures, such as pars, tiles, tubes, tape, curtains, video screens, and more. Combine DMX-based and DVI-based LED products as needed, use different fixture types in the same setup, and control the whole installation or only parts of it. With MADRIX 5, you are in control.
Built-In Tools
In addition, the software includes a full range of helpful and productive tools. This includes the Fixture Editor, but also the Art-Net Time Code Sender. There is also the Logfile, Preview Benchmark, and MADRIX Device Updater, as well as tools for restore and quick support. You can also use the DMX Fader Tool for single channel control or the Task Watcher, MIDI Watcher, and DMX Watcher for performance and data monitoring.
Premium Quality
For us, it is very important to offer you the complete package. This does not only include a product that works and fits your needs, but also extensive user manuals, tutorials, a worldwide distribution network for great sales and design services, and world-class technical support. This also includes regular software updates with improvements as well as new features. MADRIX 5 is most versatile and will help you to get the most out of modern LED technology.
What's In The Box
The beautiful, high-quality box includes
1x empty MADRIX KEY, 1x USB flash drive incl. MADRIX 5 Software and MADRIX RADAR Software, 1x lanyard, and 1x quick start guide.
All additional software tools and all user manuals are provided digitally.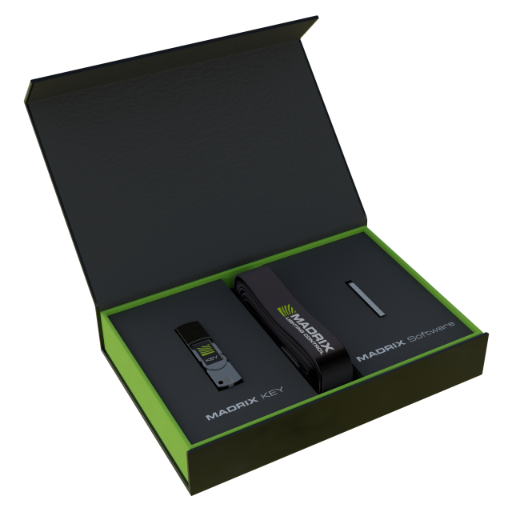 ---
Download And Test MADRIX 5 For Free
And
Contact A Reseller For Your Individual Quote
---
MADRIX 5
User Interface Languages
It comes in different languages.
Deutsch (German)
English
Español (Spanish)
Français (French)
Bahasa Indonesia (Indonesian)
Italiano (Italian)
日本語 (Japanese)
한국어 (Korean)
Português brasileiro (Brazilian Portuguese)
русский (Russian)
Türkçe (Turkish)
简体中文 (Simplified Chinese)
MADRIX 5
Supported Operating Systems
MADRIX 5 is Windows-based.
Microsoft Windows 10
Microsoft Windows 11
64 bit only
MADRIX 5
Minimum System Requirements
Optimal Specifications Will Often Be Higher:
2.0 GHz dual-core CPU
OpenGL 2.1 graphics card
2 GB RAM
1 GB free harddisk space
1280 x 768 screen resolution
Network card
Sound card
USB 2.0
Additional Minimum Requirements For Windows 11:
4 GB RAM
DirectX12 graphics card with WDDM 2.0 driver (incl. OpenGL 2.1)
TPM 2.0
UEFI incl. Secure Boot
9" display
Award-Winning Software
For
Award-Winning Projects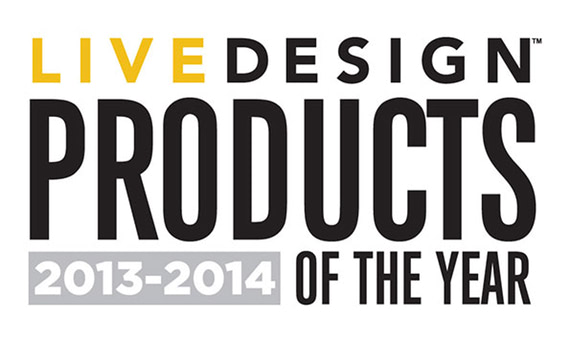 MADRIX 3 received the 'Product Of The Year 2013-2014' Award by Live Design in the category Lighting: Software/Control.
"Full 3D pixel- mapping software —a very clever system in a compact package."
"It offers the ability to fully map in all three planes —x,y, and z.
The level of complexity that can be programmed was previously not achievable with what was available in the market.
This opens up a whole new world of LED programming and effects."

mondo*dr Award 2017 – Global Winner
mondo*dr Award 2017 – Best Nightlife Venue
Dragonfly Club – A Project By LEDSCONTROL

mondo*dr Award 2018 – Best Nightclub
Corner Club – A Project By Lights Professional & NewVision Technology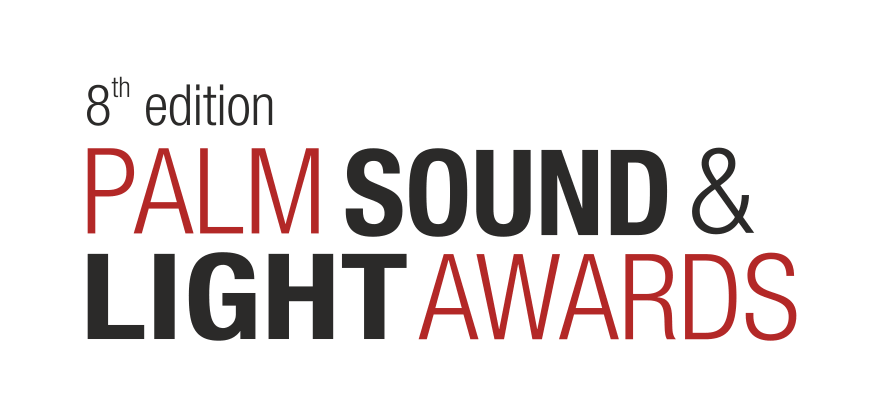 MADRIX 5 received the 'PALM Sound & Light Award 2018 – Lighting Product Innovation'.
"Awarded for bringing exemplary innovation in lighting technology and opening up lighting creativity opportunities for lighting design engineers."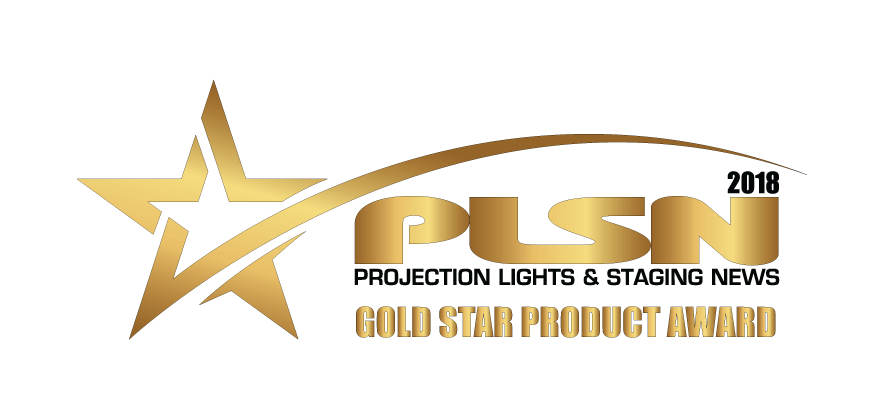 MADRIX 5 received the 'PLSN Gold Star Product Award 2018'.
"Best Pixel Management Software"